About Our Honorary Chairs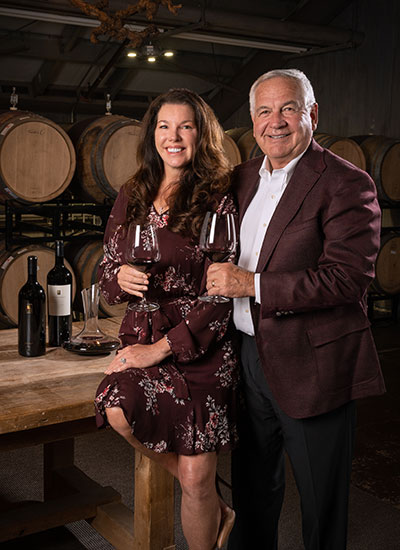 Robin & Michelle Baggett
"Robin and I are thrilled to be honorary chairs for this critically important event to support care and education for those facing a serious illness, Alzheimer's, or the end of life," says Michelle Baggett.

 

"The Reflect & Rejoice Gala is a wonderful opportunity to reflect on the compassionate care provided by the organization for over 40 years and rejoice in the opportunity we have to join with our community to ensure these vital services are available to those in need."

 
This year we are fortunate to honor and recognize vintners Robin and Michelle Baggett, owners of Alpha Omega Winery, for the impact they've made in the Napa Valley wine industry, their commitment to our community, and their generous support of Community Health Foundation Napa Valley.
Robin and Michelle moved to Napa Valley in 2006 to found Alpha Omega. Robin began his wine career in 1988 as a grape grower, planting more than 750 acres of grapes and in 1998 establishing Tolosa winery in San Luis Obispo. In the late 80s, Michelle began her multifaceted career in the development of hospitality brands before she created the name, brand and vision of their venture together, Alpha Omega.
The Baggetts actively support many charities which focus on children's education, medical technology and community needs. Michelle is the CEO of the Alpha Omega Foundation, whose mission is to inspire and encourage charitable giving in the next generation of Napa Valley's leaders.
Robin and Michelle join an illustrious group of our honorary chairs including Jean-Charles Boisset, Eileen Crane, Mary Cunningham Agee, Leslie and Rich Frank, Gina Gallo, Thomas Keller, Beth Nickel, Dario Sattui, Emma Swain, Clarke and Elizabeth Swanson, and the Torres and Rombauer families.